First Class Shooting Experiences
Looking to have a shooting experience? Here at Honesberie shooting school, we provide a number of different clay shooting experiences. Even if you're a novice or a seasoned shooter, there's always something new to learn in the sport of clay pigeon shooting.
Clay pigeon shooting is one of the best English sporting experiences you will find. This great activity is for professionals and beginners, no matter what level you are at, you are guaranteed a great time. You will be given tuition on how to use a shotgun safely and taught the techniques to succeed in your chosen discipline.
Our shooting venue provides first-class clay and game shooting instruction in an idyllic country setting near Rugby and can tailor your experience to suit your needs whilst maintaining the highest level of service.
Here at Honesberie Shooting School, we offer both individual and group tuition and are able to accommodate private and corporate events, charity days and stag and hen parties. The impressive grounds have an extensive range of targets, including a grouse butt and two high towers representing high pheasants, partridge and grouse. Our grounds are open to everyone and are disabled friendly.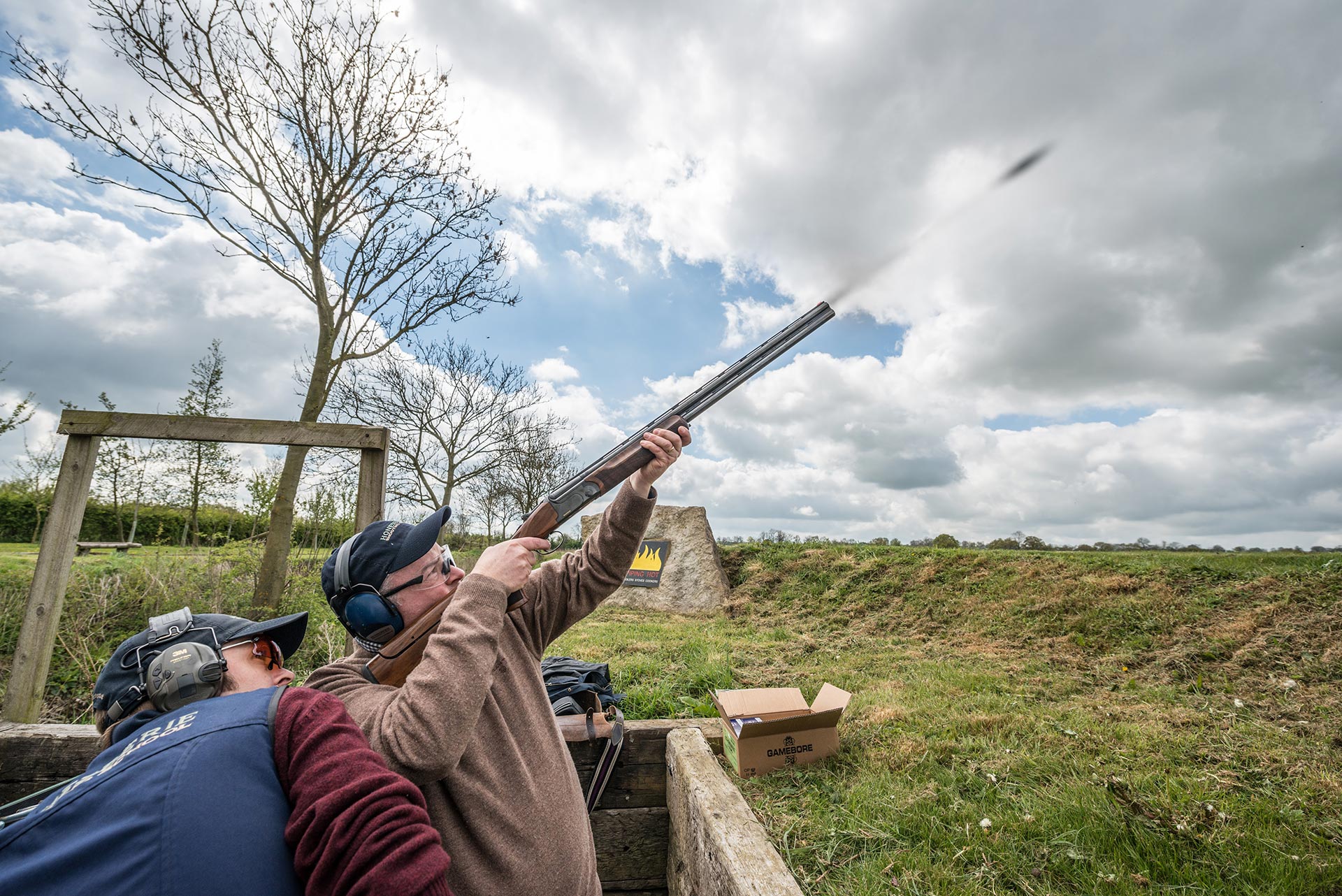 Clay Pigeon Shooting Tuition
We offer a number of different tuition packages based on the experience that you have or the kind of shooting you're going to be doing.
At Honesberie we have a team of instructors with extensive knowledge and experience in clay pigeon shooting and game shooting. We make sure you learn everything from grassroots through to international standard.
We run a variety of lessons from one to one tuition to group lessons. For beginners, we focus our lessons on learning the correct shooting techniques, etiquette and safety. For the experienced game shot, needing to brush up on all aspects of game-driven shooting, we focus on simulating the in-field experience with our grouse butt and high tower Whether you are a beginner or an experienced shot, tuition is tailored to suit your requirements.
Both small or large group lessons are a great enjoyable way for family, friends, colleagues or clients to be entertained with our instructors catering for all abilities.
Infield instruction is available for you to put what you have learnt at the clay ground into practice in a live environment. For beginners making sure that strict safety and correct etiquette is followed and observed with expert guidance.
All-Inclusive Experience Packages
Honesberie Shooting School also offers an array of all-inclusive packages:
25 Shot Experience: If you have never shot before then this is the package for you! We will find the gun that fits you perfectly, explain gun safety, check your eye dominance and guarantee you to break a clay by the end of the session. This experience will start you on your path to shooting greatness.
50 Shot Experience: Just like the 25 shot experience, the 50 shot is a great introduction to shooting. However, with this experience, we will be a bit more technical and shoot a greater selection of targets to increase your shooting knowledge and understanding of the sport.
Newcomers Days: This experience is for the shooter who wishes to actively take up the sport after their initial induction. On these days we will go more in depth into equipment used and the variable options of different target shooting and shooting disciplines. We will also teach you gun care, gun licencing and set you on the path to owning your own gun and becoming a seasoned shooter.
Ladies That Brunch & Shoot:  Girls this is one for you! Our ladies days are a brilliant environment to enjoy delicious food and improve your shooting. These days are for beginners and experienced shooters alike so come and join us to meet like-minded women and have fun.
Honesberie Shooting School frequently holds clay target shooting competitions all throughout the year on our excellent shooting grounds. Please see our competitions page for more info.
In 2020, Honesberie Shooting School will be hosting Simulated Game Days at Shuckburgh Hall. Please see our "Offsite Events" Page for more info.
At Honesberie we want to encourage more ladies into shooting. Alongside Femme Fatale and Shotgun & Chelsea Bun Club days we have introduced Honesberie Ladies Who brunch and Shoot.
Honesberie Young Shots days provide an introduction to different types of shooting ranging from clay pigeon shooting to archery, crossbows and air rifle.
At Honesberie we welcome newcomers to the sport. If you've never shot before then don't worry, our experienced instructors will teach you all of the basics on your first visit and ensure you have all the skills to develop into a confident shooter.
If you wish to come and practice your shooting, whether it be sporting or driven, never hesitate to come along. Gun licence holders are welcome to use our grounds and pay as you play. Non-licence holders may also self-caddy as long as they are accompanied by a licence holder. If you need to hire a gun, this is available for £20 (will be deducted from gun purchase if you are trying a gun).
MAKE ENQUIRY
Get in Touch