Congratulations to young Max, who is the winner of our George Pragnell IWC Top Gun Challenge! Max is now the proud owner of a beautiful IWC Top Gun watch.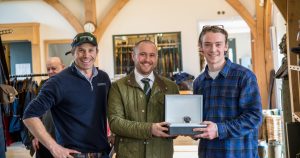 We had a fantastic turnout for the final, and the weather held out for us too!
Following an exciting 50 bird final for all the qualifiers, with a couple of shoot-offs at the end, which were extremely tight, we are delighted to announce the winners as follows:
1st place: Max Bowen
2nd place: Roger Bryan
3rd place: Colin Mortimer
4th place: Chris Childerhouse
Following the final, we were fortunate enough to get James Wootton, Head of Sales & Marketing at Wasps Rugby to interview Max about his fantastic prize.