George Pragnell IWC Top Gun Challenge Final – 15th March 2018
The final of the George Pragnell IWC Top Gun Challenge will now be held on Thursday 15th March here at Honesberie Shooting School.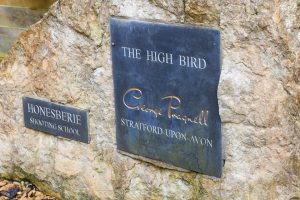 Still time to be in with a chance of qualifying!
Commencing at 10am, the final will be a 50 bird competition, with a shoot-off at the end if required.
Qualifiers will be in squads of 6 to complete the course.
The handicap system will be adjusted as follows:
AA – 0
A – 2
B – 5
C/UC – 7
All entrants will be asked to shoot our school load cartridges, supplied by Gamebore.
Lunch will be provided also as part of the day, and our sponsors will be joining us for this exciting event. The winners will be announced at approximately 1pm.
As a reminder, the prizes are as follows:
1st prize: IWC Top Gun watch, worth £9,450, donated by Pragnell
2nd prize: Custom-made suit worth £2,000, donated by Clements & Church
3rd prize: Land Rover experience, donated by Guy Salmon
4th prize: Goliath bottle of Honesberie Sloe Gin, donated by Foxdenton
The winner will also receive 4 shooting lessons, courtesy of Honesberie Shooting School.
There is still opportunity to enter the competition, with two qualifiers each week for the final.
Full details can be found here.
To enter, please call 01327 262922 or email office@honesberieshooting.server-02.dehosting.co.uk